Student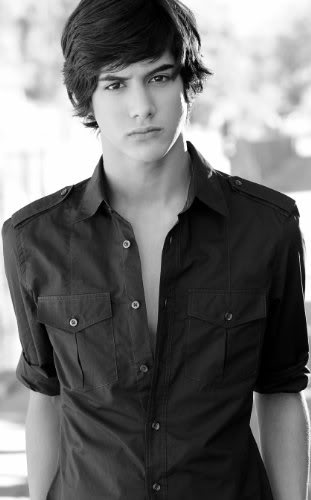 Name:
Ian Harris
Age/birthday: 17, with a birthday of April 11th, 1993.
Gender:
Male
Brief history:
Ian was raised by his grandparents, due to his father leaving his mother when she was preggo, and she herself dying in childbirth. He was raised on a farm outside a small Iowan town. He grew up a true farm boy, wearing plaid and cowboy boots, driving tractors and wearing a tan with confidence. He didn't care much for dating until 8th grade, when puberty hit in his favor. Girls thought that his farm boy demeanor was cute, and he got an instant popularity boost. He started to change, trading his boots in for DC's, plaid for Billabong, and Wrangler's for Levi's. This put a slight financial strain on his grandparents, who were broke most of the year. When he was 15, Ian's grandparents sadly died, without a penny to their name. The farm was sold and Ian was sent off to live with a distant relative in Toronto. He has adjusted quite nicely to the Canadian scene, fitting in with a more popular crowd, mostly due to his charmingly good looks.
Relationships (past and present):
Lily Gardner (Two weeks; Sixth grade) Jessie Kings (One Month; 8th grade) Jamie Wiatt (One week; 9th grade) Sammi June (Two months; 9th grade) Ashleigh Ganderson (Five months; 9th grade, Broke up due to his moving out of the country)
Grade:
Senior
Years at Degrassi:
Two
Parents:
Ian's sperm donor is Jason Elliot. His mother was Emma Harris.
Physical appearance:
Ian stands at a 5 ft, 11 in. tall. His unkempt hair usually adds an inch to make it an even six foot. His stature is very unlike a foot ball player's large bulk, nor is it a graceful willowy type of a stereotypical popular kid. No, his is a lanky type. It was like his bones had grown a little to fast for him, and now he was with a slightly awkward body. He is over ten pounds under weight, having just recovered from anorexia in the last few months of summer. Another point of interest would be his smile. His teeth are white, but not movie star perfect, and his left front tooth has a chip in it. He calls it off as an endearingly unique trait of his.
Personality:
Ian is a very self obsessed guy. He is much more interested in himself than he is with the general population. His close-knitted crowd and current girlfriend, are the only exceptions. He's always obsessing over how he looks and what people perceive of him. He goes to the bathroom multiple times a day just to make sure he's okay for the day. All of this, combined with media, made him develop anorexia during his Junior year. He was sent away during the summer, but came back just in time for Senior year. He grew a bit during his inpatient treatment. Mostly, he became a tad less self needing. Although he hides it, he's afraid of being alone. He surrounds himself with all types of people, even the bad ones. He does this because he is deathly afraid of being alone. He thinks that he'll look bad or stupid all by himself, so he remedied this with anyone he could find. During his exposures to the wrong sorts of people, he became a very frequent partier, drinking optional. He used to go out maybe once a month, but now he goes out almost every single weekend. His aunt and uncle don't approve, but they also don't do much to stop him. He's tried many drugs and drinking, but has never got addicted.
Pets:
None
Talents:
Ian is a pretty good Wii tennis player, and he can beat almost any video game, but that's the extent of his talents.
Other:
Nada